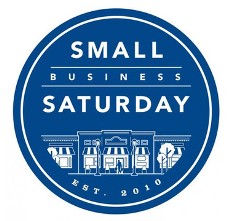 On Saturday, November 28th, communities across the nation will be celebrating Small Business Saturday. Falling immediately after Black Friday, and just two days before Cyber Monday, this annual observance has become an integral part of the holiday season's retail surge.
But is it really important? Or is it just another silly marketing gimmick?
Local businesses are in danger
These days, it's so simple and fast to jump on Amazon or another ecommerce website and find everything we need for a great price, and even have it shipped right to our door.
And there's likely a Wal-Mart or a Target within easy driving distance of your community, so one-stop-shopping at discount prices is an admittedly tough draw to ignore.
But where does that leave our small, independent retail stores and restaurants that have lined Main Street, USA for the last two centuries? It's no exaggeration to say it leaves these Mom and Pop businesses struggling for survival.
Now, to be clear, there's nothing wrong with shopping at large box stores or eating at national chain restaurants. These businesses offer value, consistent quality, and selection that are difficult to beat. And, they create a large number of jobs for the community and contribute a significant amount of tax revenue which is good for the local economy.
Theoretically, the competition these larger stores create should have a positive impact on local retailers, but the reality is the tremendous price differences and much larger marketing budgets of these stores tend to have the opposite effect on smaller business owners who can't afford to compete.
Why are these small businesses important?
For two very simple reasons, small independent local stores and restaurants provide a necessary counterbalance to the large franchise locations and national chains that have spread across the country in the last 50 years:
The number of small independent businesses outnumber the larger national chain locations by a factor of ten or more in nearly every economically viable community. All of them employee local residents and pay their share of local business taxes to the extent that their combined value is generally higher than the large chains in the area.
Unlike a chain location with a parent corporation that absorbs most of the proceeds, nearly all the revenue earned by local independent businesses is invested back into the local economy since owners and employees live in the area and spend their earnings accordingly.
It's not difficult to understand why studies have proven that nearly 48% of all money spent at local independent businesses is recirculated locally as opposed to only 14% of money spent at large national chains.
In addition, the local independent business owners tend to approach their efforts as part of a long-term commitment to the community. On the other hand, the large box store that opened last year could be shut down this year if an accountant at the national headquarters doesn't like the look of the balance sheet.
So where does Small Business Saturday fit in?
Small Business Saturday offers the perfect opportunity to support the local business community and discover the incredible variety of products and services available from local business owners.
Do you know what's going on locally on November 28th? If you own a local business, investigate what the local business associations are doing to celebrate and participate! Whether you're running a business yourself or not, you can always participate by making it a point to shop locally on that day.
And, if you don't currently own a local business but you've dreamed about it, consider buying a local business that's for sale and building up the local economy that way.
By supporting Small Business Saturday, we can all have an impact on the continued growth and prosperity of our local independent businesses and the entire US economy.